DONATE – Help Us to Grow!
---



We had a dream…to continue to build a culture of LIFE in Phoenix.
With the assistance of our dedicated supporters, WE HAVE MADE THAT DREAM A REALITY. By purchasing a building for our 7th Street Clinic, we have increased our medical and counseling spaces and can expand the services we are able to offer. With greater exposure and signage, we will reach out to even more women. By providing Help and Hope to women considering abortion, we have the opportunity to advance the culture of LIFE through medical care, counseling and education.
THANK YOU for your support!


Scroll down for information on our growth history.
---
July 2021 to Present
Life Choices is providing help and hope to women in our community at our two clinic locations, and on the Hope Mobile:
Phoenix Women's Clinic
8326 N. 7th Street
Phoenix AZ 85020
Phoenix Women's Clinic
3516 W. McDowell Rd.
Phoenix AZ 85009
Hope Mobile Clinic
…On the Move to locations throughout our community
Life Choices Women's Clinic corporate offices are located in the 7th Street Clinic.
---
November 9, 2021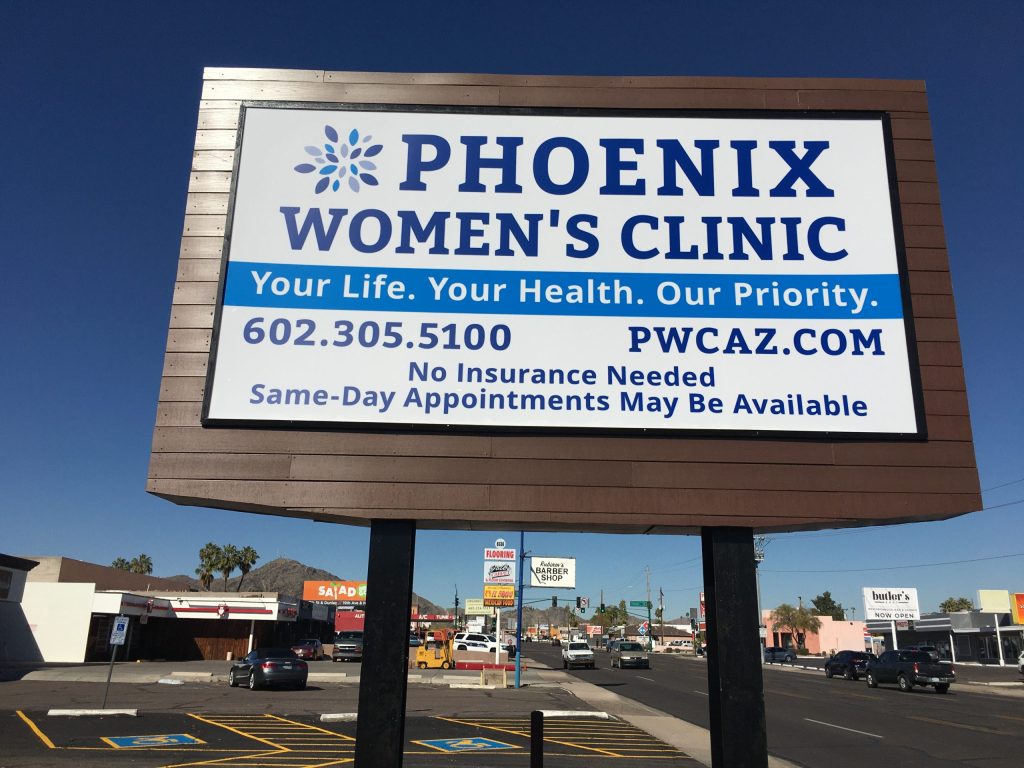 We hosted an Open House to officially present our new clinic. We have been blessed with the support of our generous donors and volunteers to make this dream a reality. We were doubly blessed to have Bishop Thomas J. Olmsted celebrate a Mass & Blessing for Life Choices Women's Clinic.
It was a wonderful celebration of LIFE! If you were not able to attend the Open House, please plan to stop by the Clinic anytime for a private tour.
---
July, 2021
With construction of Phase II completed, we are able to fully occupy our additional space. This space has enabled us to store, prepare, and manage our Program and Fundraising resources which enable us to participate in corporate, parish and community campaigns, and support our program Mission of offering Help & Hope to mothers and families in need. The Baby Boutique area offers diapers, baby clothing, strollers, etc. and other items which provide our mothers with tangible resources to help them during a difficult time. Demonstrating that there are people who do care about them and their unborn child offers them hope for the future. This support can mean the difference in women choosing life for their unborn child. The classroom area provides the space needed to expand our reach with Defending Life…Educating the Next Generation training for the youth in our community who will be the future missionaries for Life.
---
January, 2021
We have moved into our new Phase I 7th Street Clinic location, and are loving it! The fresh, dedicated spaces have allowed us to present a more professional appearance, and we have received positive feedback from many of our clients. As we continue to grow with Phase II, we will add areas to enable us to provide a staff kitchen, Baby Boutique, Classroom, and Chapel as well as much needed storage.
---
December 31, 2020
As we reflect back on 2020 and look hopefully toward 2021, we are so pleased with, and grateful for, the growth we have experienced this past year. We have received the support of generous donors, the dedication of our professional staff, and the gratitude of the women we have helped to make life-affirming decisions that both they and their baby could live with. We will go forth faithfully continuing to build a Culture of Life in Phoenix.
December 14, 2020
Today was the Grand Opening of the new Phoenix Women's Clinic at 8326 N. 7th Street, and we saw our first client! Both of our Life Choices Women's Clinic locations have now been re-branded with the new name Phoenix Women's Clinic. This brand name will make us easier to find in internet searches, and even more attractive to women seeking our pregnancy and medical services.
December 11, 2020
Construction was completed, and we received our Certification of Occupancy! We are so excited to get moved in to the new location and begin a new chapter in offering help and hope to women in our community.
---
November, 2020
With just a few utility installations left, the clinic is really coming together. While finish work is taking place inside the building, the focus has shifted to the outside of the building. A fresh coat of paint really makes the building look clean and fresh, and a wonderful pop of color has brought it alive in our chosen hues of blue (a Marian inspired blue of course!)
Unfortunately, our sign remodel has been delayed due to a death in the family of the sign company with which we had contracted. Please offer a prayer for the deceased and his family. We are soliciting new bids and designs and moving forward on this task.
Work on the parking lot has been planned. At this stage of the project, we will just make some minor improvements. In Phase II of this project, an additional 30′ of building space will be added to the rear of the building, and this may cause some additional digging to take place. We will wait until the Phase II building has been completed before we do the final resurfacing of the parking lot.
---
October, 2020
Drywall has been installed and finished, and the walls were primed and painted. Durable and beautiful tile flooring has gone down throughout. The restrooms got a clean and decorative tile installation and the fixtures are installed.
Interior windows are being installed and cabinets are being installed to allow us to neatly organize our staff reception and medical assistant areas, medical lab area, and exam rooms. Our countertops will have just the right amount of "sparkle."
---
September, 2020
We passed our interior framing inspection, yea! Work is really progressing now! Interior walls are going in and the rooms are taking shape. Insulation is being sprayed in to keep us cool and comfortable in the summer, and warm and toasty in the winter. Flooring is next.
---
August 31, 2020
This has been a busy month for our Foreman Gracie, and our Contractor Jeff. They have made great strides!
Gracie is now standing on her own! and ready to take a step forward on getting this project completed.
Jeff created the room layouts with stud walls. Windows were cut into the block wall on the North side of the building to provide some natural light in the office spaces. The electrical wiring was installed and outlet boxes were placed in each room. The external and internal plumbing trenches were completed and pipes were installed and connected to the Restrooms and Medical Rooms. City of Phoenix Inspectors were at the new clinic today, and…drumroll…
Interior Plumbing – PASSED
Interior Electric – PASSED
Interior Framing – Failed, but just needs a few things tweaked, and will be re-inspected by the City on Sept. 2nd.
---
August, 2020
On Monday, August 3rd, the City of Phoenix completed their inspection of the new clinic plans, and we received approval to start construction! Our contractor is now focused on taking our vision from blueprint to reality by creating the room spaces. With this inspection completed, we are well on our way to #BuildingForTheirLives!
Click on the Building tab above to see more construction pictures.
---
July, 2020
Great News! Construction started at our new office! It has been a long wait, but the remodeling at the new 7th Street clinic started last week. Jeff Harb of Harb Design Build, LLC and his team are moving quickly. Check out the Building tab to watch the progress and see pictures of the construction project!
We recommend these contractors who are building the new Life Choices Women's Clinic:
General Contractor: Jeff Harb
Harb Design and Build, LLC
Plumbing Contractor: Filipe Castro
Pesky Root Plumbing
Roofing Contractor: Jeff Starkweather
Starkweather Roofing
Architect: Debbie Parmiter
Art in Design
---
March, 2020
COVID-19 Pandemic. Remodeling activities have been effected as a result of the Covid-19 outbreak and the health concerns associated with this pandemic. Many City of Phoenix offices have been closed or hours have been cut, so the permit process has pretty much slowed to a crawl or stopped.
---
January, 2020
Architectural plans have been drawn up and submitted to the City of Phoenix for approval and permits. Interior and Exterior designs have become working plans.
---
August 13, 2019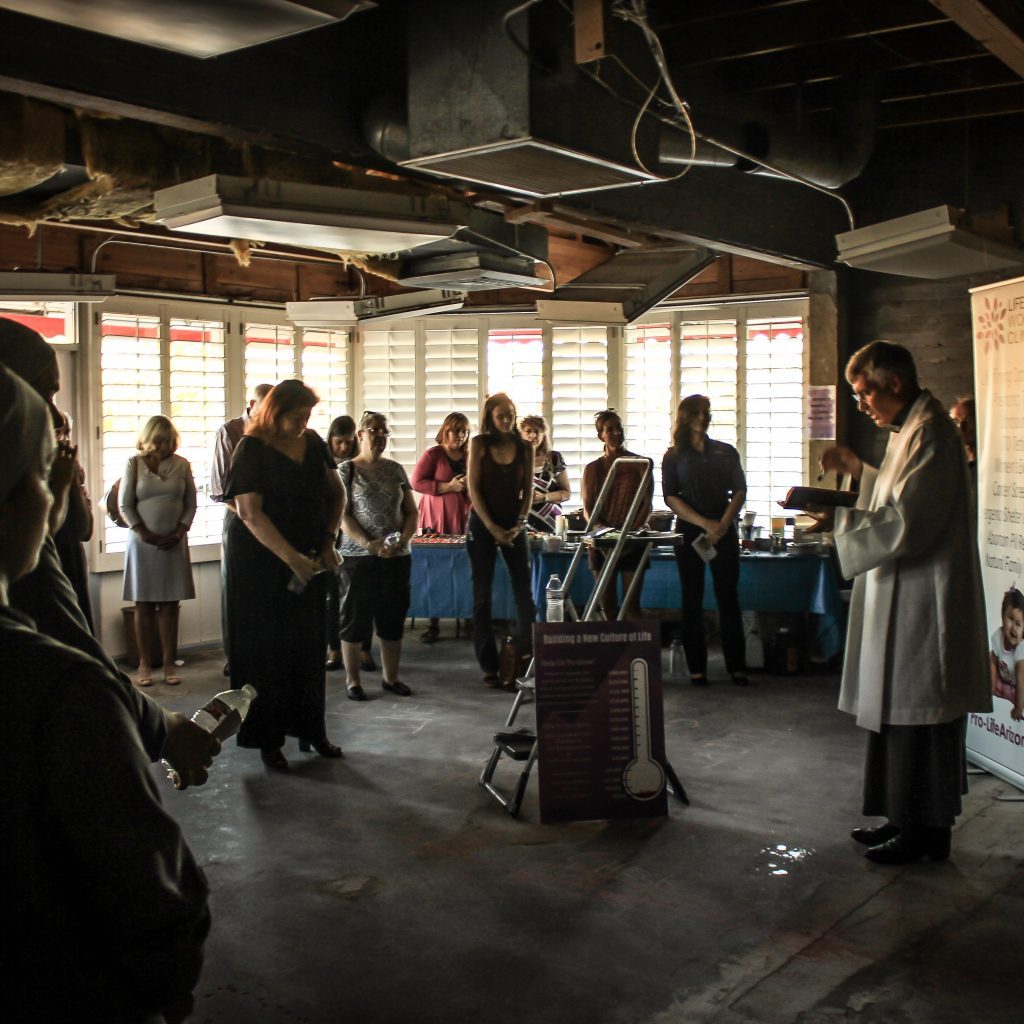 Open House. LCWC hosted a Open House to share our renovation project plans and start the transformation to our new North Phoenix clinic location. Having started the interior demolition, we invited our guests to take a swing at the past as we prepared for the future! (hard hats were optional).
Prayer for a Successful Remodel Project. "The God of heaven Himself will help us succeed; therefore, we will arise and build! We will trust His Word and believe in the Sovereign Lord who always keeps His Promises." Nehemiah 2:20
Blessing. Fr. Dale Craig, SOLT, Pastor of the neighboring Most Holy Trinity Catholic Church attended our Open House and blessed the new North Phoenix clinic building and the supporters in attendance.
---
August, 2019
We have been working on plan ideas for the overall layout of the interior space. The existing building will house the reception area, offices and exam rooms as part of our Phase I remodel. We have also planned a Phase II which will build an extension in the back of the building to give us the space needed for an additional counseling room, a classroom with restroom, a staff kitchen and bathroom, baby boutique & storage, and chapel space.

---
July, 2019
Life Choices Women's Clinics has embarked on a bold move to reach more women and save more babies from abortion. We have purchased a building and will be moving our 7th Street clinic to the property south of our current location.
This new property has 100 ft. of street frontage and a large sign, and will provide us with unprecedented visibility to pro-life women's health care. We are working with a Contractor to design and remodel this building to become a state-of-the art medical clinic to enable us to serve even more women.